One of the top tools of the social media trade we implement for both clients and our internal usage is the content calendar. Perfect for staying on track and proactive planning, a content calendar keeps your content creation streamlined and efficient, yet flexible. Although content calendars may seem like one more thing to do, the planning conducted in advance makes strategy implementation a lot easier.
Content calendars are great for keeping track of all your communication tools, including blogs, PR pitches, press releases and social media. It's a central place where every piece of content is developed and archived. For creative teams, it's a collaborative exercise that keeps the whole team involved. For individual social media managers, it's an organization tool to help with time and strategy management when working with integrated content.
Need more incentive for content calendar use? Here are more of our favorite benefits:
Organization – The content calendar's main draw is in its organizational structure. There's no set way a content calendar should be created and organized, it allows customization for a given need. Columns you may set, for example, are things like "platform" (where something is posted), "contributors" (who is helping develop the content) and "deadline" (completion date). The content calendar provides a clear path for what is happening, establishes goals as well as roles and responsibilities for the team.
Lessons learned– By finding common themes in different posts and looking at analytic data that tracks post engagement (most platforms offer this capability for free), you'll be able to see what resonates with your audience. Understanding what your audience needs and likes helps you target those needs and likes in future posts.
A look ahead – A key factor in social media and content development, in general, is making sure you are consistently posting, staying top of mind with your audience while also expanding your reach to new audiences. Using a content calendar allows you to look a few weeks to a few months ahead for notable milestones such as company and client anniversaries, birthdays, local events, awards, relevant historical events and social media holidays, just to name a few. Additionally, proactive planning allows more time for development of videos, photos or events.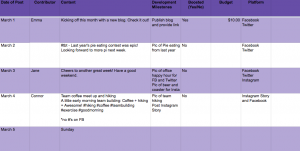 Once you start using a content calendar you will see a nice variety of diverse content. That's great, but keep in mind, it's ok to deviate from the plan. A content calendar keeps you organized; it's not meant to shackle you to the content you've developed. Social media is inherently "in the moment" so when something interesting is happening around the office your audience would appreciate, post it.
Who doesn't love cute puppy pics?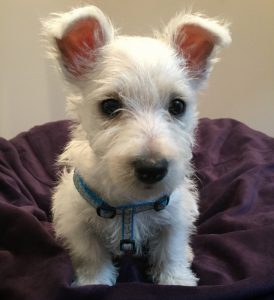 Here's an example: A co-worker brings in their new puppy. It's bound to get your office talking and if that's the case, your audience will probably enjoy a cute puppy face in their news feed as well. Who doesn't love cute puppy pics? Social media is driven on situations where you can capture the "now" to show the human side of your brand.