.

Creative communicators
with strong and distinct backgrounds form the powerful A. Bright Idea team.
Work with us.
The depth of our combined experience in public affairs, graphic design, strategic communications, advertising, media planning, tradeshow and event planning, and interactive services generates unique and effective solutions for local, state and federal government agencies. Since 1996, our award-winning advertising and public relations agency excels at identifying opportunities, generating ideas and executing customized solutions that deliver results.
SPECIAL QUALIFICATIONS
Small Business
Women-Owned Small Business (WOSB)
WBE Number 2005121525
D&B Number 002833684
Unique Entity Identifier (UEI #) QUNFGUXVAQL3
FEIN Number 52-2199010
CAGE 359K4
Disadvantaged Business
Enterprise (DBE) CUCP 42661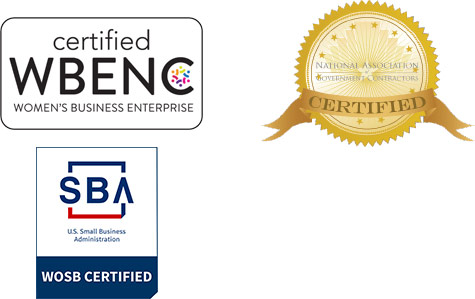 FOR MORE INFORMATION
WEST COAST
P.O. Box 2019, 13750 Arnold Drive,
Glen Ellen, CA 95442 | 707.935.1377
125 S. Glenoaks Blvd., Burbank,
CA 91502 | 818.736.5696
EAST COAST
210 Archer Street, Bel Air, MD 21014
410.836.7180
abrightideaonline.com
GSA SCHEDULE
A. Bright Idea can be found on the U.S. General Services Administration's (GSA) Professional Services Schedule (Legacy 541 AIMS Schedule). Contract GS-07F-0324W

UNSPSC Codes
82140000: Graphic Design
82100000: Advertising
80170000: Public Relations and Professional Communications Services
82131603: Video Production Services
SINs
541430: Graphic Design Services
541511: Web Based Marketing
541810: Advertising Services
541810ODC: Other Direct Costs for Marketing and Public Relations Services
541820: Public Relations Services
541850: Exhibit Design and Advertising Services
541922: Commercial Photography Services
561920: Conference, Meeting, Event and Trade Show Planning Services
OLM: Order-Level Materials
NAICS CODES
541430: Graphic Design Services
541613: Marketing Consulting Services
541810: Advertising Agencies
541820: Public Relations Agencies
541830: Media Buying Agencies
512110: Motion Picture and Video Production
541611: Administrative/General Management
541690: Other Scientific and Technical Consulting
541618: Other Management/Consulting Services
541850: Outdoor Advertising
541922: Photography
541840: Media Representative
541890: Other Services Related to Advertising
541990: Other Professional, Scientific, Technical Services
561410: Document Preparation Services
541870: Advertising Distribution
561920: Trade Show
561910: Market Research/Opinion