We're thrilled to announce the additions of fresh talent and leadership promotions! Always looking to enhance our ability to serve clients, Founder & CEO Anita Brightman finds gratification in expanding the team's depth and capabilities. It's the same level of beaming pride she gets from nurturing professional growth and seeing colleagues' trajectories over years and even decades.
This most recent crop of team members has expanded our depth while promotions have crystalized our core. We've added to our ranks communicators who bolster our public relations, video and marketing teams. In addition, three Bright Lights have moved into leadership roles.
Meet our new hires and new leadership members enhancing A. Bright Idea's strategic communications and client service.
Promotions & New Roles
Lisa Condon
Senior Director of Organizational Training & Talent
Lisa's 16-year tenure at A. Bright Idea is summed up as a graphic design tour de force. Lisa's A. Bright Idea tenure is summed up as a graphic design tour de force. For most of that time, she steered our team of design professionals, orchestrating projects from kickoff to polished final product. Her experience stretches some three decades, and clients, partners and our family of team members are quick to recognize her eye for details and the nuances of good design. She recently shifted roles, taking on the duty of training and mentoring our ever-growing bench of Bright Lights, a side of her former position she enjoyed most.
Her personalized lightbulb explained: Proudly a "true print designer," Lisa customized her lightbulb to represent a die cut — a special technique in the world of printing. It showcases her passion for tactile elements of graphic projects, such as special folds, cutouts and dimensional substrates layered on a wall. She approaches every visual project as an opportunity to convey the client's story in a compelling and appealing way.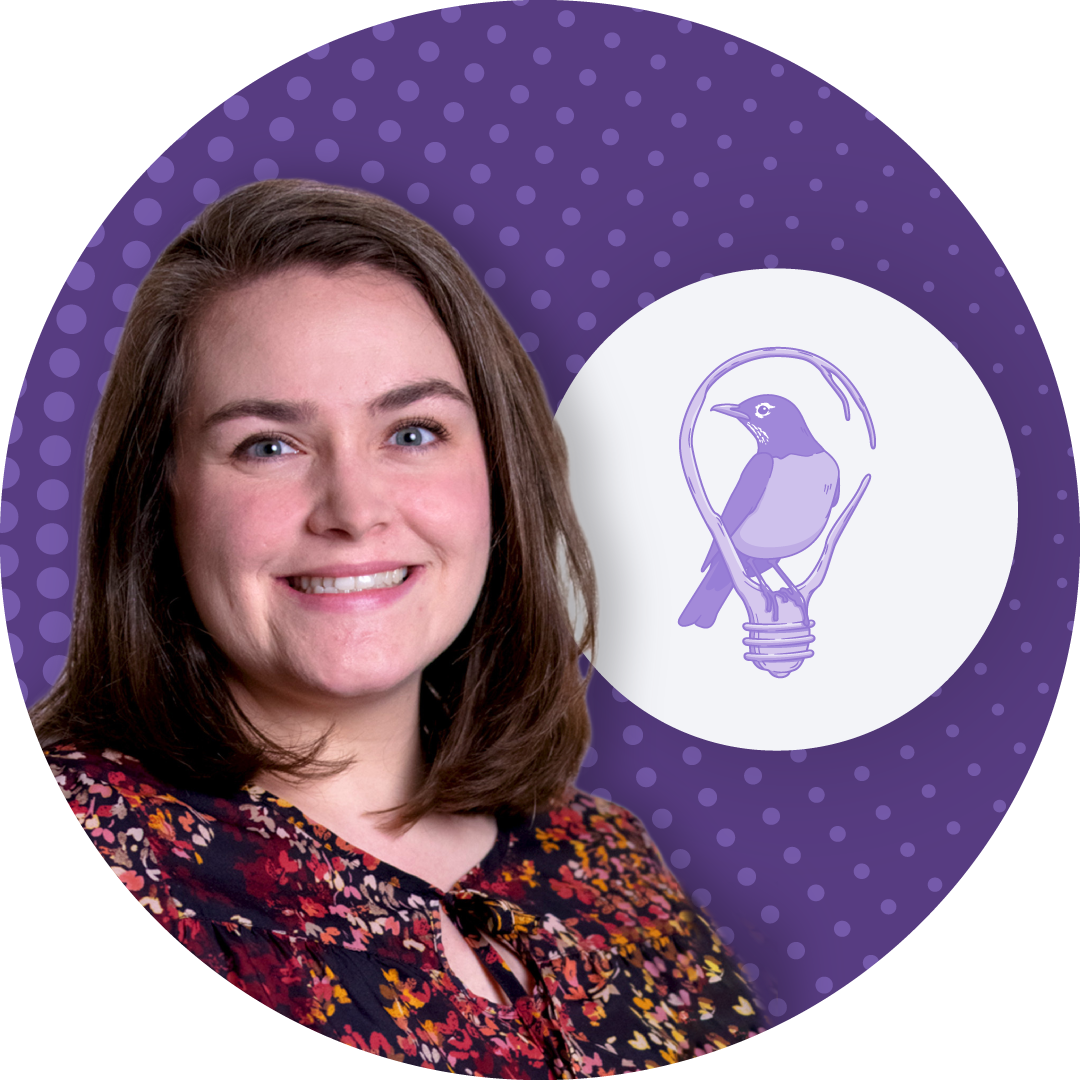 Robyn Koenig
Assistant Director of Creative Strategy
Robyn joined our team straight out of college. It's been onward and upward ever since. The staying power rests in her love for the ever-present problem-solving in our diverse clients' design needs. The day-to-day fun comes from the variety of work, from brand refreshes and wall projects to enormous multi-page layouts and digital ads. Running the full spectrum of creative needs for clients eliminates any possibility of a dull moment. Her track record of success earned her a well-deserved bump to a leadership position.
Her personalized lightbulb explained: As a member of our graphic design team, you'd expect Robyn to sketch her own lightbulb icon. And that's exactly what she did. For Robyn, design is a labor of love. Her icon features a robin sitting on a lightbulb-shaped branch, partly pointing to nature as a source of inspiration. (She also loves a good pun.)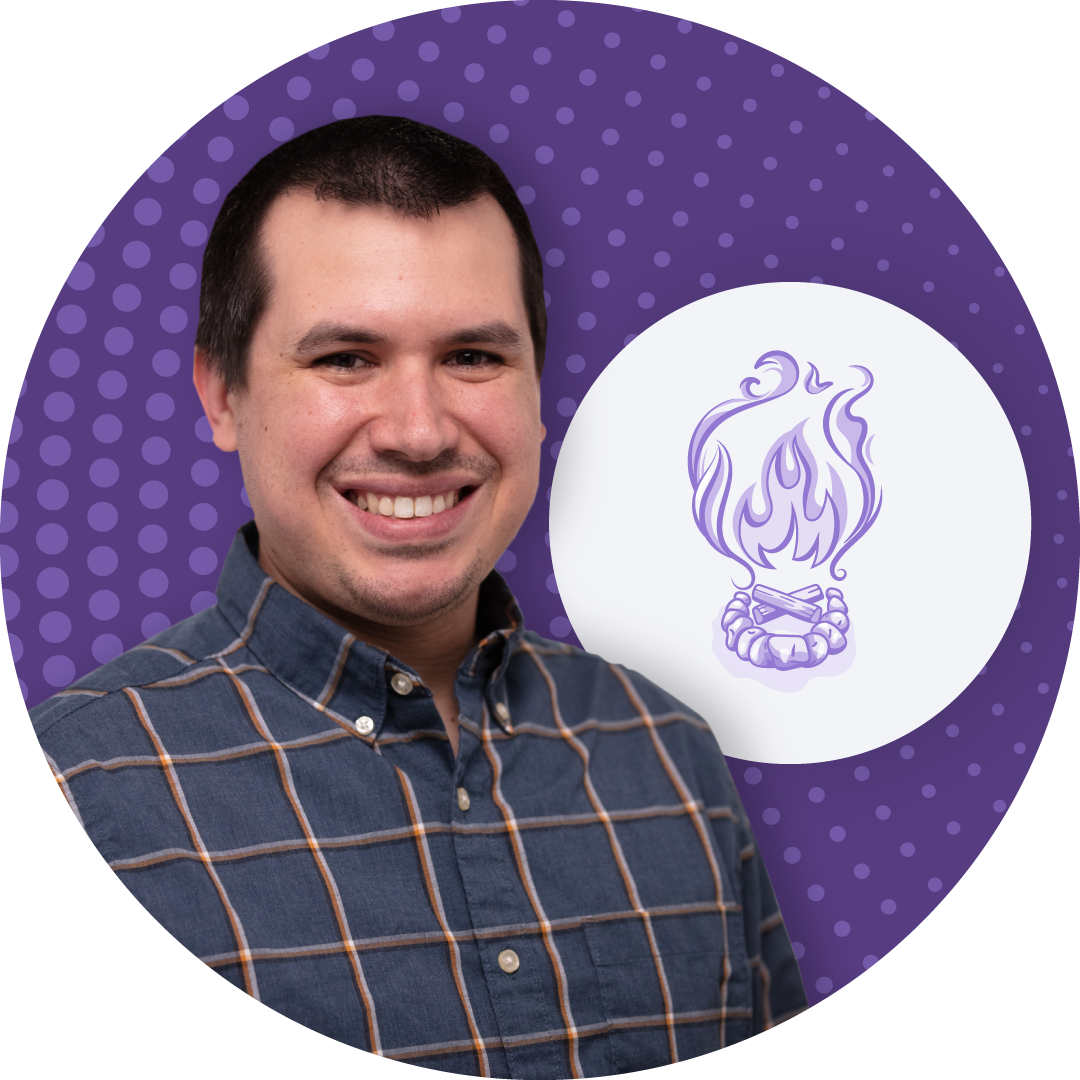 Josh LaVeck
Assistant Director of Marketing Communications
It seems like yesterday that Josh joined our team. It's been more like a couple of years, yet in that time Josh has more than proven himself an exceptional marketing professional. His elevation reflects his rare ability to juggle 50 balls while marshaling our collective talent to deliver the best product for clients. Verbal and visual messaging is always on target; the product is always on time. Never one to boast, he'll tell you he's just having fun.
His personalized lightbulb explained: A campfire forms the shape of a lightbulb, a nod to his childhood learning to appreciate the outdoors and hard work as a Boy Scout and eventually earning the rank of Eagle Scout. His icon's design pulls from those formative years that helped shape his approach to work and work ethic. And if you've ever sat around a campfire, you probably agree that the experience provides a moment to reflect and draw inspiration for the days ahead.
New Hires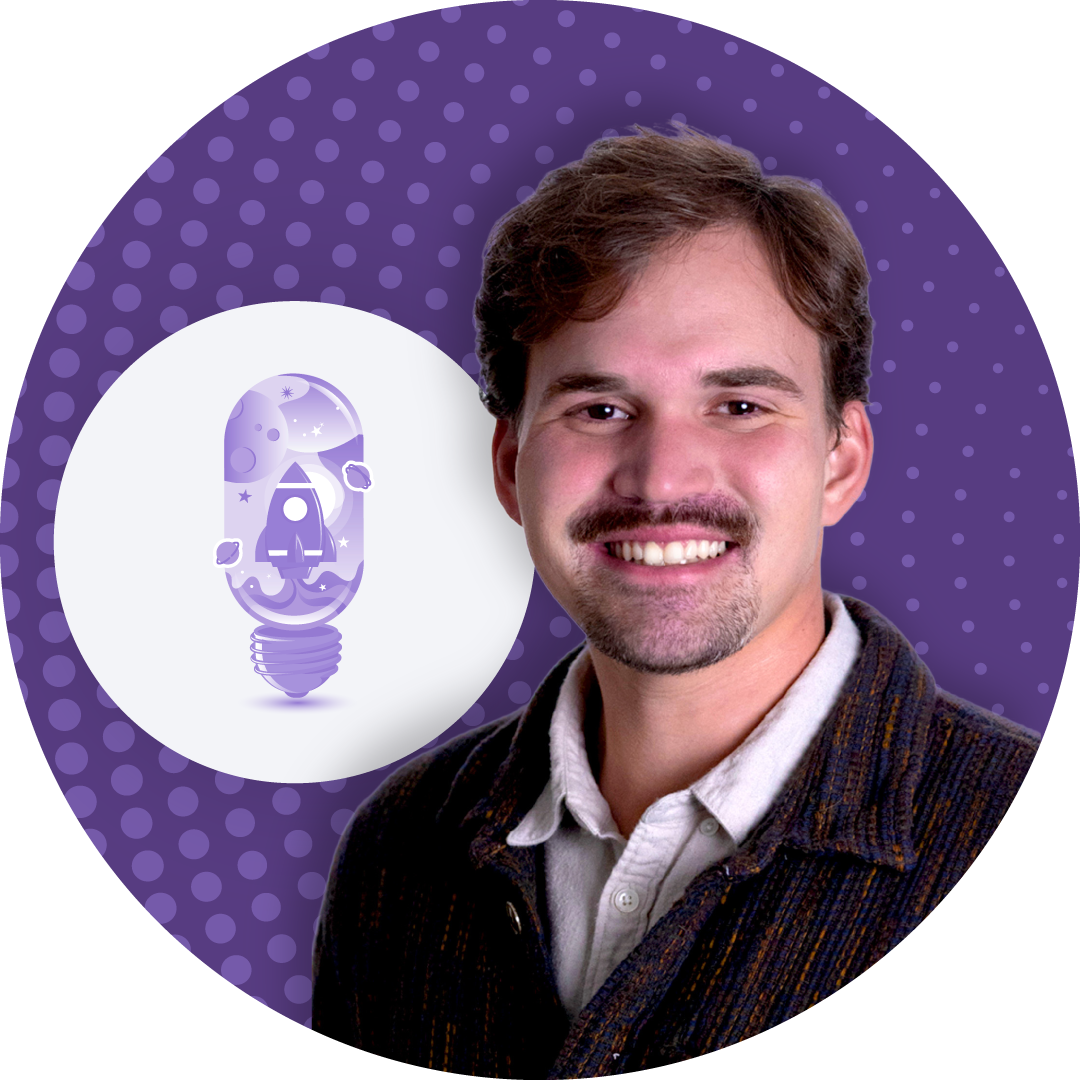 Zack Stauffer
Director of Video & Emerging Media
Fittingly based in our Burbank, Calif., office — the Media Capital of the World — Zack comes to A. Bright Idea with rich Hollywood production experience. When we strategically opened an office in SoCal, we did so knowing we'd tap into the Greater Los Angeles Area's deep talent pool of top-notch producers like him. Having spearheaded tons of video productions and commercial content, we're proud to have him help us reach the next frontier of filming with cutting-edge technology.
His personalized lightbulb explained: He conceptualized his lightbulb icon around a rocket ship blasting off into the unknown. First, he loves space. But more to what it says about how he approaches his role, it conveys the idea that every advancement starts with imagination. It signifies his dedication to staying curious and open to change and creativity.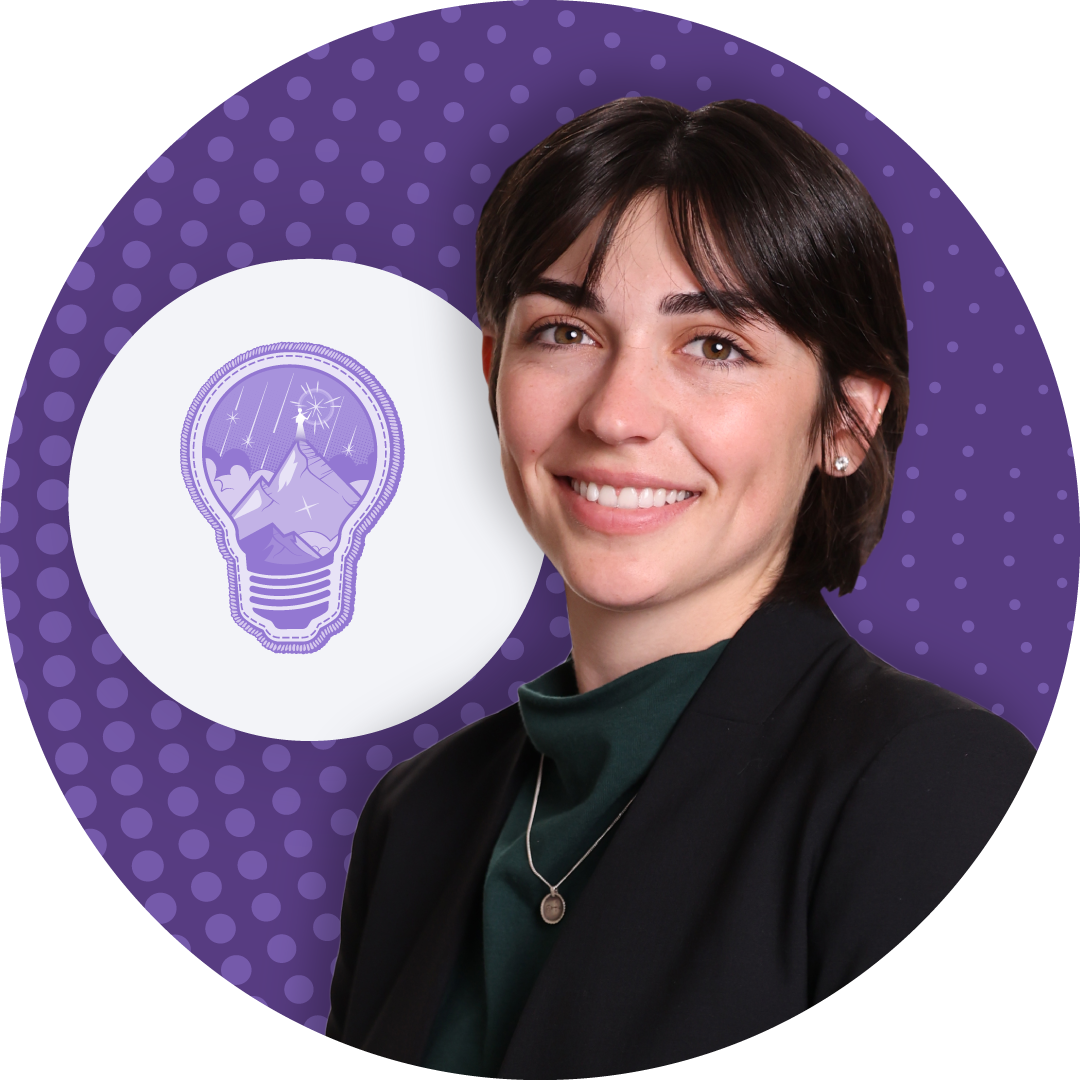 Isabella Regis
Communications Associate & Office Assistant
Equipped with great early-career experience, Isabella arrived at A. Bright Idea hungry to learn and explore new approaches to marketing and public relations. To Isabella, our diverse clients are a treasure trove of angles that constantly spark new ideas. She considers it a privilege to serve our government, nonprofit and commercial clients.
Her personalized lightbulb explained: Depicting a National Parks Service patch, Isabella's icon seeks to demonstrate her go-getter attitude. The way she sees it, we can achieve any goal with consistent, intentional steps, whether tackling a big client project or ascending a mountain towering over us. And it's the gratification of a breakthrough or reaching the summit that keeps the fire burning within.