Often in life, we spend so much time working on the next project we forget to stop and take stock of our achievements. A 20th anniversary seems a good time to take pause and reflect. As I look around me, I see the walls of my Bel Air office and the hallways of the building covered in the national, regional and local awards we've won at A. Bright Idea. More important to me, however, remains the continued trust clients freely offer us to help them continue to succeed. I take pride in the achievements of A. Bright Idea over the past 20 years and the bright future ahead. I started alone.
In August 1996, I began A. Bright Idea with the simple desire to use my talents creatively and to their fullest potential. I decided to leave the corporate world behind and create my own business. It was not the safe choice with a newborn daughter, an uncertain economic situation and no prior experience as an entrepreneur.
With confidence in my abilities and a desire to approach things differently than in the corporate world, I flipped their contracting business model. Instead of hiring people to meet contract requirements only to eliminate positions when contracts ended, I decided to build a talented team and find multiple clients we could support.
During this journey, several key people played a role in building our success. My thankfulness to them remains everlasting. Here are just a few who helped along the way:
TJ, my husband, for planting the seed of starting my own business and always serving as my biggest supporter and cheerleader. He brought considerable marketing and management experience (as well as his best friend, Chad Mitchell, as our CFO) when they joined the team a decade ago.
Gary McCormick, APR, Fellow PRSA, for hiring me out of college, exposing me to the Public Relations Society of America, and the government contracting arena and the PageMaker design software.
Dan Simmons, owner of Continental Search and Outplacement Inc., trusted me to help his business, and as I know from personal experience, a business represents more than just where we work – it represents our dreams and our time. Twenty years later, I still appreciate the trust and advice he bestowed.
The late Miguel "Mickey" Morales, then the public affairs officer for the former Soldier Biological Chemical Defense Command, pushed me to apply for the federal 8(a) certification program. I listened and was accepted into the business development program in 2006 and graduated last year.
John O'Brien and Jacob Cheiffo from the Office of Small Business Programs at Aberdeen Proving Ground for helping us get in front of government clients and demonstrate our capabilities.
Rosita Carosella, small business program associate director for the Defense Logistics Agency, for supporting us in the transition from a subcontractor to a prime contractor, which helped propel us in the right direction at the right time to allow us to grow at a sustainable rate.
This list above doesn't even begin to capture the level of support I've received throughout the years from numerous professionals, clients, partners and friends.
The spark that began in my spare-bedroom-turned-office now serves as a beacon to draw others eager to perform to their fullest potential as creative verbal and visual communicators.
Nearly 40 people – Bright Lights as we call them – make up the A. Bright Idea team today. A. Bright Idea operates with team members in three states and maintains offices on the East and West Coast. I take pride in creating a space where they can do good work and find creative solutions for our clients. The Greek philosopher Epictetus said, "The key is to keep company only with people who uplift you, whose presence calls forth your best." As we mark the 20th anniversary milestone of A. Bright Idea, our team uplifts each other and uplifts me. We work closely together, taking advantage of the diversity of our talents and experience to push our work to the next level. We're supportive. We provide assistance to our clients and to each other, offering help, guidance and advice in areas critical to their success. We're proactive. We take risks and look for opportunities to support the end goal, solving problems and building creative solutions without fear.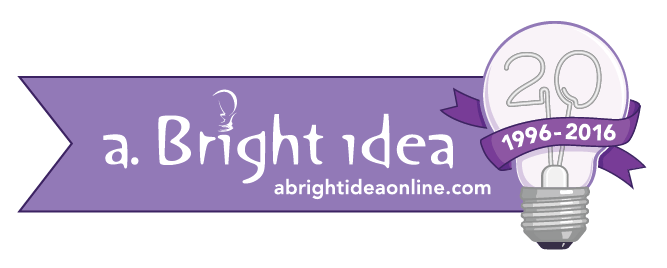 I look forward to the next 20 years with the same excitement and desire as I did that August morning in 1996 when the future lay brightly before me.