I sat down at my desk in my ergonomically correct desk chair with my laptop perched on top of its stand to begin writing this post. My fingers positioned on the keys, I stared at my computer screen. The words just weren't coming.
My setting felt too formal for this particular task. So, I picked up my laptop and ran over to our beanbag room, repositioning myself in a comfy Dalmatian-print blob. The ideas started circulating as my mind entered a more relaxed domain. After some time, I landed on "the one" and began feverishly hashing it out.
But instead of hashing, I decided I needed to dribble. I stepped into the hallway and picked up our purple basketball, my idea transitioning from concept to concrete with every shot I took at the net hanging on the wall.
Our offices include various spots where team members can temporarily relocate, including our chill area with leather couches and punctuation mark pillows, our outdoor bar stool picnic table and our purple Adirondack chairs on the porch. Our MacBooks, Wi-Fi and Tervis Tumblers of coffee create the basis of the magic "Bright Light" solution for success, allowing us to create anywhere.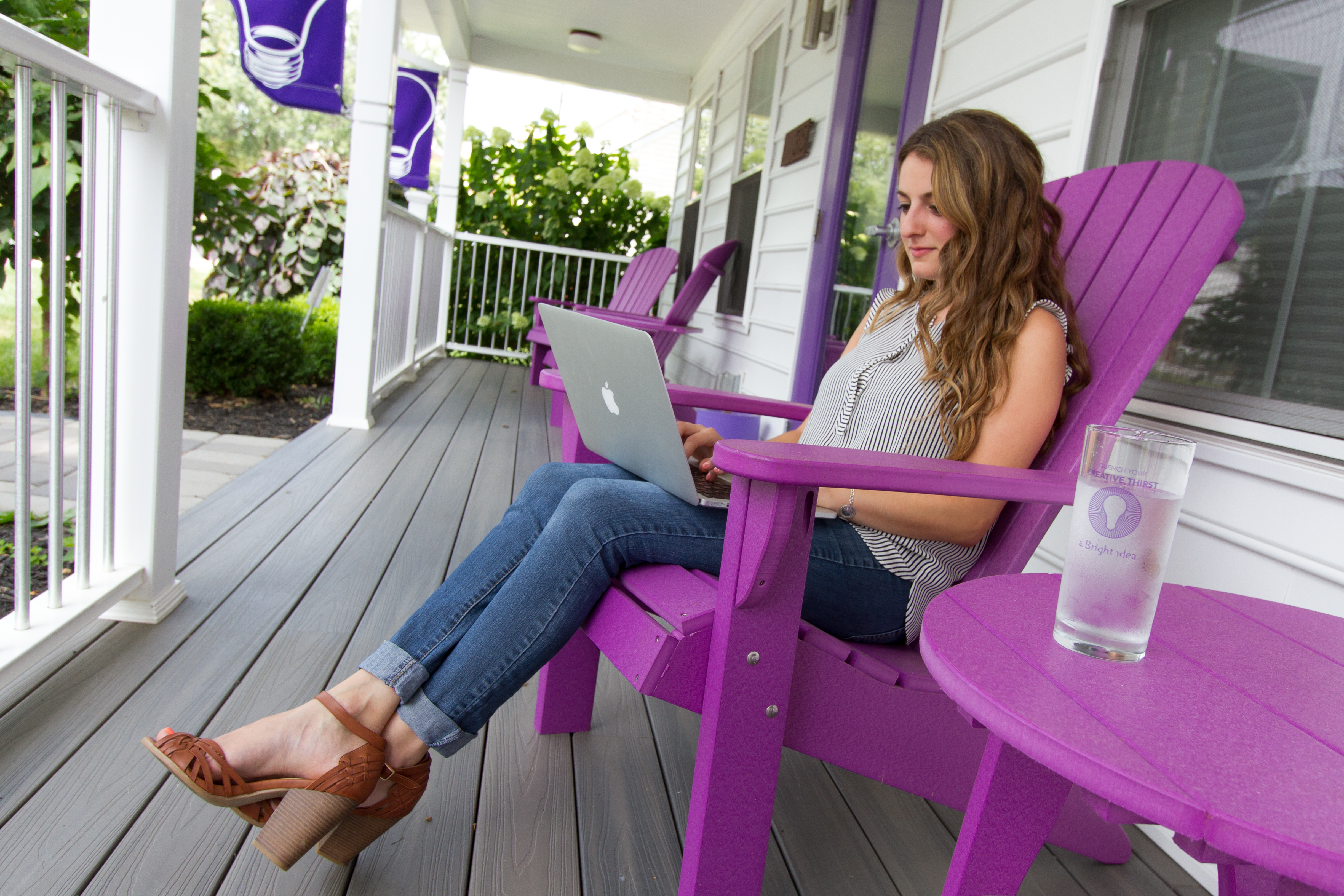 Flexibility in our physical settings offers creative workspaces, which translate to the work we produce at A. Bright Idea. When we can physically change scenery, we're much more likely to mentally readjust.
As a full-service agency, we support many different types of clients and varying projects. Sometimes we develop technical content, like descriptions of how a piece of technology works to destroy chemical weapons. Other times, we emulate Stephen King and make up a horror story for a haunted trail hosted by a nonprofit organization.
Based on the vibe or mood of the project, we prepare our minds to generate the appropriate ideas. Adapting our work space to the task at hand supports this preparation and acts as a green flag waving at the front of our brains, as if indicating approval for the ideas at the gate to set off.
We're fortunate to have access to several buildings in our creative campus at our home base in Bel Air, while a second location sits on the edge of the tranquil Sonoma Valley Regional Park in Glen Ellen, California. Our surroundings set us up for success with inspiration galore!
Now that we've shared some of our flexible secrets, let us in on yours! What kinds of spaces do you find inspiration for your work?